1. Submit to the Conference

All accepted full papers will be published in AHIS-Atlantis Highlights in Intelligent Systems (2589-4919) and will be submitted to EI Compendex, Scopus.
◆ EI Template download: Template.rar, No less than 6 pages
2. Submit to other Journals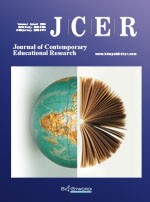 Journal of Contemporary Educational Research (JCER) Online ISSN: 2209-265X, in current education research, supported by education experts and scholars from all over the world and response, in succession from China, the United States, Australia, Russia, India, Malaysia, Italy, Brazil and other countries more than 100 scholars to join the editorial board, some of the editors of the H index between 10 to 30, and has a good reputation in the industry. Articles collected by this journal will be submitted to Google Academic, etc.
How to submit:click
For more details, please contact Ms. Li : 13922157154 ( WeChat )
3. Submit to other SCI Journals
Up to 10 selected papers will be recommended for publication in the following SCI journals.
Journal 1:Scientific Programming(ISSN:1058-9244,IF=1.025,Special Issue)
Journal 2:Mobile Information Systems(ISSN:1574-017X,IF=1.802,Special Issue)
Journal 3:Wireless Communications and Mobile Computing(ISSN:1530-8669,IF=2.336,Special Issue)
Journal 4:Electronic Commerce Research(ISSN: 1572-9362, IF=1.94, Main Issue)
Note: All submitted articles should report original research results, experimental or theoretical, not previously published or under consideration for publication elsewhere. Articles submitted to the conference should meet these criteria. We firmly believe that ethical conduct is the most essential virtue of any academics. Hence, any act of plagiarism or other misconduct is totally unacceptable and cannot be tolerated.